Fitchburg, Massachusetts Personal Injury and Medical Malpractice Lawyers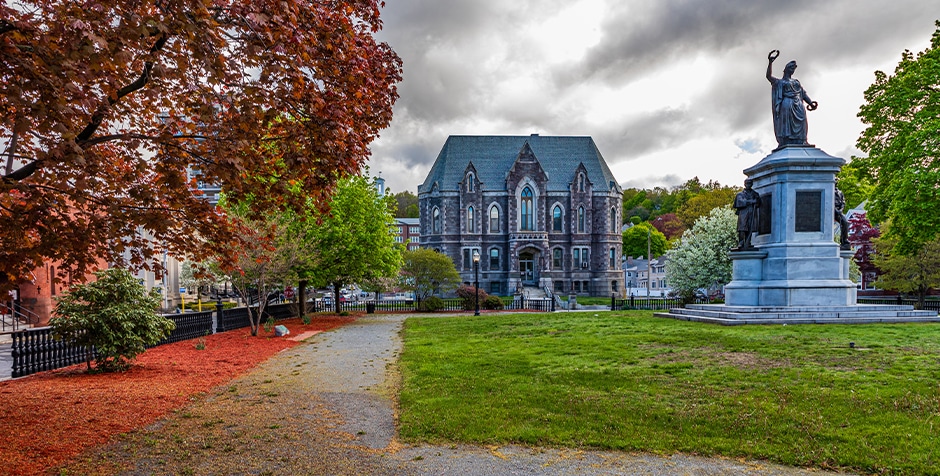 Fitchburg, Massachusetts Personal Injury and Medical Malpractice Lawyers
Breakstone, White & Gluck is a Boston law firm which represents clients in personal injury cases. We represent individuals and families throughout Massachusetts, including Fitchburg, Gardner, Leominster, Pepperell, Clinton, Groton and Shirley.
Car Accidents in Fitchburg
Fitchburg is located 52 miles away from downtown Boston in northern Worcester County. The city has 40,000 people and several police departments. The Fitchburg Police Department, the Massachusetts State Police and Fitchburg State University has its own police department.
Route 2 and Route 2A travel through Fitchburg. Other major roads include Route 12 and Route 31. The Arthur J. DiTommasso Memorial Bridge is a cable stayed bridge that looks like a miniature-sized version of the Zakim Bridge in Boston. It is open to drivers and pedestrians. It crosses over the North Nashua River and the railroad tracks used by the MBTA's Fitchburg Commuter Rail.
Car accidents happen in Fitchburg, just like any other community, when drivers do not pay attention or disregard traffic laws. When they do, accidents are often in parking lots outside stores, Main Street and near Fitchburg State University.
Several car, bike and pedestrian accidents made the news in Fitchburg in 2017. In March 2017, a Fitchburg man was killed when a Jeep Grand Cherokee rolled over on the westbound side of Route 2, near Exit 30 in Fitchburg. A month earlier, a teenager drove off the road, landing her car in Phillips Brook, near the intersection of Westminster Hill and Sanborn Street. She had to be airlifted to UMass Memorial Medical Center in Worcester for minor injuries and to be checked for hypothermia. In July 2017, a teenage boy was hit by a car on Boutelle Street. He was flown to UMass Memorial Medical Center to be treated for his injuries.
In some cases, those injured may be entitled to compensation if their injuries were caused by someone else's negligence.
Car accidents and truck crashes cause a large number of injuries each year. But other types of personal injury claims include:
Wrongful death: Wrongful death can result medical malpractice, truck accidents, product liability and defective products and other negligent acts.
Massachusetts laws concerning wrongful death strictly govern who may recover damages. The administrator or executor of the deceased relative's estate must bring the claim. You may be entitled to damages including future net income, loss of companionship and support as well as punitive damages.
In Massachusetts, there are laws governing who may recover damages in a wrongful death case. Claims must be brought through the estate of the deceased relative, and are brought by an administrator or an executor.
If you are involved in a wrongful death case, it is important to consult an attorney before making any decisions. You may be approached to enter into a settlement or accept a financial payment in exchange for releasing an individual, insurance company or corporation from liability. You should not sign any papers or make any agreement without speaking to an attorney.
Medical malpractice: Medical malpractice cases can arise from surgical malpractice and failure to diagnose or properly treat medical conditions. Negligent reading of mammograms, x-rays and other medical tests are examples of failure to diagnose. Surgical malpractice can include the negligence performance of an operation, leaving instruments inside the patient and failure to recognize complications during surgery.
In the Fitchburg area, residents can choose from several hospitals, including UMass Memorial – Health Alliance Hospital, which is based at 60 Hospital Road in Leominster, or Nashoba Valley Medical Center at 200 Groton Road in Ayer.
If you are injured by medical malpractice, contact Breakstone, White & Gluck for a free legal consultation. Breakstone, White & Gluck's attorneys have been recognized as among the best medical malpractice lawyers in New England. One of our attorneys has been selected to the Massachusetts Super Lawyers list in the area of medical malpractice each year since 2004. We have obtained settlements of $10.2 million and $7.5 million and numerous other awards for families. While there are many local attorneys in Fitchburg and Leominster, many do not specialize in complex medical malpractice cases.
Call for a Free Legal Consultation
The Fitchburg personal injury lawyers at Breakstone, White & Gluck can assist you with any questions you may have today regarding a personal injury, medical malpractice or motor vehicle accident. We can be reached at 800-379-1244 or use our contact form.