Fatal Truck Accident at Dangerous Andover Intersection Has Community Mourning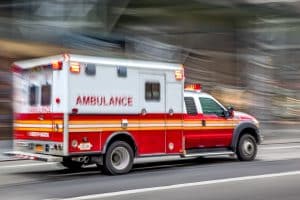 A tragic incident occurred in Andover, Massachusetts, on the afternoon of May 10 when a 5-year-old girl was fatally struck by a tractor-trailer at a busy intersection. Upon receiving multiple 911 calls, Andover police rushed to the scene at the intersection of Elm and Main streets around 5:15 p.m. State police later confirmed that the victim had passed away at the location. Andover Town Manager Andrew Flanagan offered his condolences to the bereaved family, expressing sorrow on behalf of the town.
Police reports indicate that the tractor-trailer was pulling out from the left-turn lane on the westbound side of Elm Street and turning onto the southbound side of Main Street when the truck struck five-year-old Sidney Olson. A witness reported seeing the girl in the crosswalk with another child and a woman pushing a baby carriage. Following the collision, a small scooter was found lying on the street. According to police, there were several other pedestrians in the same crosswalk at the time of the accident, and while they were not hit by the truck, they were still sent to the hospital as a precautionary measure.
Sysco, the company that operates the truck involved in the fatal collision, released a statement expressing their sorrow about the incident and claimed that they are cooperating fully with law enforcement and are also conducting an internal investigation to determine how the tragedy occurred.
As truck accident attorneys in Boston, we know how catastrophic and tragic truck accidents are – especially when the crash is fatal. Our lawyers have fought for injured and suffering families caused by truck accidents and accidents at intersections such as this, and we have the results to prove it:
$3,000,000 for a driver who sustained orthopedic injuries from a truck accident.
$2,500,000 for a victim who suffered multiple fractures, two spinal fusions, erectile dysfunction, and loss of consortium.
$3,200,000 for a pedestrian struck at an intersection.
We have many other successes listed among our results page. We also have several client testimonials about their experiences with our firm.
Elm Square's dangerous history for pedestrians
The intersection of Elm and Main streets is located in Elm Square, a bustling area in downtown Andover where multiple streets meet. Residents have raised concerns about the intersection, citing its design as unsafe for both pedestrians and drivers. According to one resident, the intersection does not prioritize the safety of pedestrians, making it hazardous. This includes improper timing between the traffic lights and the walk signs. A witness of the fatal accident reported that the sign "gives you the ability to cross, while also letting drivers drive through it." The Olson family stated that the girl had been with another family in the crosswalk, and when the collision occurred, the walk sign still indicated it was safe to cross.
Citizens and police alike have long known that the intersection is a dangerous place for both drivers and pedestrians. WalkBikeAndover, a resident-led advocacy group that focuses on making the streets and sidewalks a safer place for bicyclists and pedestrians, stated that "for years, residents have been conveying to the Town, stories of near-misses and concerns over pedestrian safety based on the operation of the intersection."
What are the city authorities planning to do about this?
In response to these concerns, Andover Town Manager Andrew Flanagan has pledged to improve pedestrian safety throughout the community. The town has invested in traffic-calming infrastructure, education, and enforcement measures in recent years to make roads safer for everyone. Recently, voters approved funding for a traffic study of the Elm Square intersection, which the town will assess thoroughly and make necessary improvements immediately.
The fatal collision that occurred at the intersection is currently under investigation by Andover police detectives, state police detectives, and the Massachusetts State Police units including the Collision Analysis and Reconstruction Section, Commercial Vehicle Enforcement Section, and Crime Scene Services Section.
The dangers of left turns
Left turns are dangerous for several reasons. First, making a left turn typically requires crossing over one or more lanes of oncoming traffic, which can increase the risk of a collision. Additionally, turning left often involves yielding to oncoming traffic, which can be challenging in areas with high traffic volume or limited visibility.
Another factor that can contribute to the danger of left turns is the difficulty drivers may have judging the speed and distance of oncoming vehicles. This can be particularly problematic when drivers are turning across multiple lanes of traffic, such as in a busy intersection.
Left turns are also associated with a higher risk of pedestrian, motorcycle, and bicyclist accidents. This is because pedestrians, motorcyclists, and bicyclists may be less visible to drivers when they are turning left, especially if they are crossing at an intersection or mid-block.
According to Popular Mechanics, turning left for drivers in the United States is one of the most risky moves on the road, with around 61% of accidents occurring during left turns in intersections.
Overall, left turns require drivers to carefully assess the traffic conditions around them and make quick decisions based on the movements of other drivers, pedestrians, and bicyclists. Failure to do so can result in serious accidents and injuries.
How can a Boston truck accident attorney help you?
It is tragic what happened to Sidney Olson and her family in Andover, and we can hope that they are able to find some peace in the future. We also hope that the town of Andover repairs the traffic light system in that intersection. Ideally, they will change much about that specific area to avoid future accidents such as this.
At Breakstone, White & Gluck, our truck accident attorneys can help if you or your family has been injured in a left turn or at an intersection by providing legal assistance and guidance throughout the legal process. We will investigate the accident, gather evidence, and interview witnesses to build a strong case for you. We deal with the insurance companies on your behalf, to ensure that you receive fair compensation.
Furthermore, our experienced lawyers will provide valuable legal advice on how to proceed with your case. We will explain the legal options available, provide information about the statute of limitations and filing deadlines, and ensure that your rights are protected throughout the legal process. Our goal is always to get justice for our clients, and we are unafraid to take a case to a jury if we believe that it is what's best for the people we serve.
Fatal car accidents are tragic. While we cannot bring a loved one back, we can help you hold the liable parties accountable for their actions. To schedule a free consultation, call Breakstone, White & Gluck at our office in Boston or fill out our contact form.