Failure to Diagnose Neck Fractures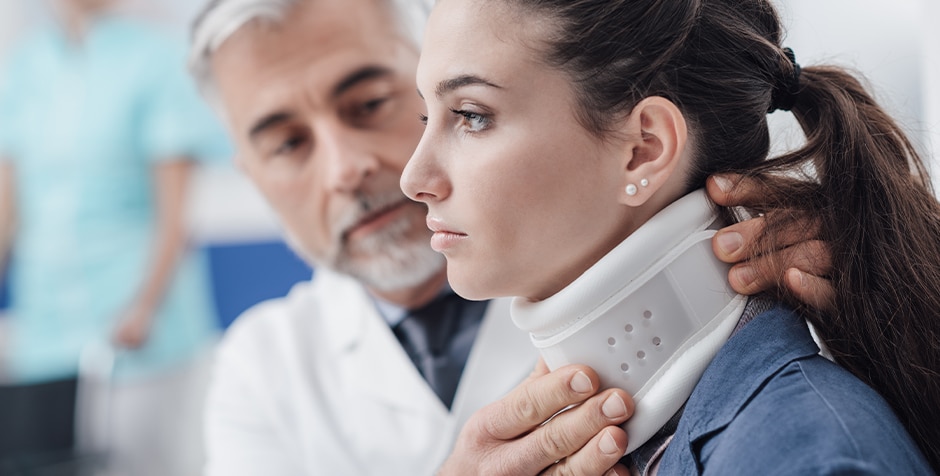 Failure to Diagnose Neck Fractures
Dedicated Boston Attorneys Handling Spinal Cord Neck Fracture Misdiagnosis Claims
If you suffer any injury to your neck, the first concern has to be to protect you against serious cervical spinal cord injury. If a medical professional fails to appropriately assess, diagnose and protect your neck and cervical spin, the results can be devastating. There are considerable advancements in medical technology that have allowed doctors to address neck fractures and to treat patients appropriately. Despite these technological advancements, medical professionals still have a duty to treat each patient with appropriate and timely care and to make accurate diagnoses when feasible. At Breakstone, White & Gluck, our dedicated Boston misdiagnosis attorneys have handled medical malpractice claims on behalf of victims and their families throughout Massachusetts. These claims can be complex from a medical point of view. Our seasoned team of legal professionals can assist you in determining whether a physician misdiagnosed your condition and whether you are entitled to compensation.
Understanding a Medical Professional's Duty of Care in Diagnosing a Neck Fracture
For a victim to recover compensation from a medical professional, our injury attorneys must show that he or she failed to treat the victim with adequate care and skill. There is an accepted duty of care that all medical professionals in Massachusetts must follow. This standard is based on the accepted practices and procedures that other medical professionals in the region would use when treating a patient with similar conditions and a similar medical history. When it comes to neck injuries, there are certain tests and examinations that medical professionals commonly perform when evaluating the injury. These include diagnostic tests like MRIs, CT scans, and X-rays, which would likely reveal any neck fractures. The standard of care under Massachusetts law also likely requires a patient who sustained a neck injury to undergo a diligent physical assessment, including a neurological examination and motor function examination.
Also, the physician will likely ask many questions regarding the nature and origin of the patient's neck injury, while stabilizing the area to prevent any further damage. This is especially critical because neck injuries can lead to serious spinal cord conditions like paralysis. Due to the complexity of medical cases involving neck injuries, it is common to retain at least one medical expert to evaluate your case and to testify on your behalf regarding the treatment that the defendant should have provided and how the actual treatment that he or she rendered fell below the standard of care.
After proving that the defendant did not treat your neck fracture with appropriate care and skill, we must show that this was the direct cause of your injuries. It is not sufficient to simply show that the defendant treated you in a subpar fashion. We must prove that your injuries would not have occurred but for the defendant's lack of sufficient medical care. This can be complicated, especially if you suffer from various pre-existing conditions that have symptoms similar to the additional injuries that you suffered as a result of the defendant's lack of care.
In the last phase of the lawsuit, we will compile and present evidence to show the full scope of your losses, including your medical bills and expenses. If you needed to miss work as a result of the misdiagnosis, you can also seek damages for your lost wages. If the failure to diagnose your neck injury results in a permanent disability, you may be able to seek damages for your future estimated medical care needs as well as for your emotional suffering. Massachusetts places caps on certain categories of damages in medical malpractice cases, but our diligent Boston trial lawyers can help you navigate these rules while maximizing your recovery.
Get Assistance from a Knowledgeable Medical Negligence Attorney in Boston
Knowing whether you have suffered injuries as a result of a medical professional's lack of adequate care can be difficult and confusing. At Breakstone, White & Gluck, we offer a free consultation to help you learn more about your potential medical malpractice claim and whether you may be entitled to damages. Our attorneys serve people in cities such as Boston, Cambridge, Waltham, Lowell, Newton, Somerville, Quincy, Dedham, Norwood, Brookline, Attleboro, Barnstable, Brockton, Plymouth, Worcester, Lawrence, and Springfield. Call us now at 1-800-379-1244 or contact us online to set up your appointment to discuss a doctor's failure to diagnose a neck fracture or another condition, such as a brain injury.